Financial Planning
Overview and The Financial Planning Process
We develop comprehensive financial plans that will help you work towards realizing your goals. Our financial planning strategy begins with a thorough fact-finding and data collection process in order to fully understand your needs, objectives, and expectations. Based on this understanding, we are then able to develop a variety of planning concepts whether you are saving for retirement or just starting out.
Our financial planning engagements are completed on an hourly basis. After our initial discussions, we will provide you with a specific estimate of cost based on your unique situation. However, our typical services range from $1,500 – $7,500 per project and are developed by Certified Financial Planners ™ (CFP®) who design and review every financial plan we create.
In order to help guide you through developing your financial plan, we have detailed the steps the six steps in the financial planning process below. We will cover these with you in more detail once we start the engagement.
Step 1 – Establish the Client Relationship

Step 2 – Gather and Analyze Data

Step 3 – Set Goals and Priorities

Step 4 – Create a Strategy

Step 5 – Implement and Measure Progress

Step 6 – Review, Monitor and Adjust Plan
What Financial Planning Areas Do You Cover?
This Areas of Financial Planning graphic shows how we design, build and protect your financial success.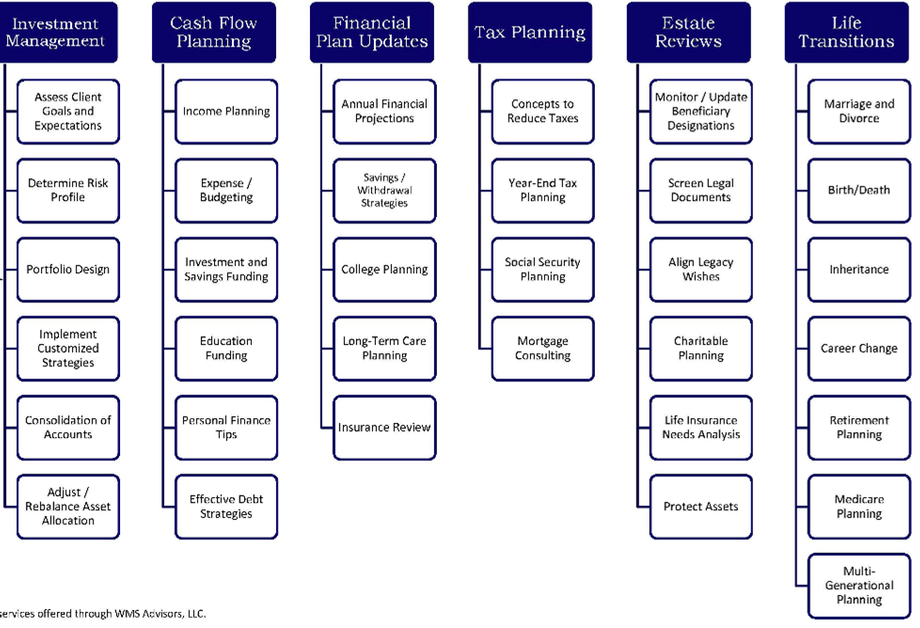 What's Included?
The recommendations you receive from WMS will be customized based on you and reflect your own unique goals and priorities. Below is a sample of what is included.
A comprehensive financial plan that provides an analysis of your current financial situation

Written, easy-to-understand action steps with recommendations that are in your best interest

Financial goal setting, scenario analysis, and help with making financial decisions

Net Worth Analysis – listing of assets and liabilities

Cash Flow Analysis - A summary of your income, cash flows and budget including any necessary recommendations

Retirement projection(s) based on your goals

Investing Assistance – including how much to invest, what type of accounts, and asset allocation recommendations.

A review of your estate planning documents, employee benefits, and insurance policies and recommendations for adjustments if necessary

Referral to other professionals if needed, such as CPAs, insurance brokers, or attorneys, to assist with implementation

Virtual/email follow-up as needed while engaged as your financial planner
Additional Planning Services
Estates & Trusts
As part of our wealth transfer planning, we provide guidance on planning, transition, protection, and preservation for estates of all sizes to ensure a client's existing plans are appropriate and matches their goals and objectives. We also develop ideas for planning, maintenance, and compliance services for trusts of varying types including insurance, asset protection, and special needs trusts. This includes a review of estate documents, estate summaries, and beneficiary designations. We work with our professional network of attorneys and specialists to create, update and implement these plans.
Risk Management and Insurance Analysis
An integral part of our data gathering process and analysis includes the completion of a detailed Client Profile Questionnaire as well as a review of existing insurance to evaluate risk from various sources including asset and income protection. This wealth protection planning helps to ensure the assets a client has accumulated and will continue to accumulate in the future will be protected from creditors, adverse life events, and risks such as disability, loss of income, death, long-term care needs, and medical costs. We routinely meet with our professional network to review and address these situations.
Learn More
Do you want to learn more about our financial planning services? Are you ready to take the next step? If so, please click the link below to get started, and we'll be in touch to schedule an introductory meeting.
Thank you very much for your interest in WMS Advisors!